I know it's been a while since my last post, but that doesn't mean I haven't been busy. Busy is good, right?
Here's what I've been working on...
Craft Fairs
I haven't been in the craft fair scene for a while, but I'm back and making a real effort to create a brand presence. I finally finished my shabby chic ruffled table cover and my upcycled shutter garment rack, plus I replaced my canopy with an Earthy brown one and I made a proper display for my checkbook covers. I plan on adding another garment rack and lining the under-side of the canopy shabby-chic style, but I am pleased with the progress so far.
If you are in Lower Slower Delaware, I have two more upcoming craft fairs before Christmas.
Church from 10am-2pm
Brand Packaging
I found the perfect mint green tissue paper, dark wine raffia, and matching gift cards at
Paper Mart
. (This is not a paid endorsement. They just have a great selection and pretty awesome prices.) What do you think?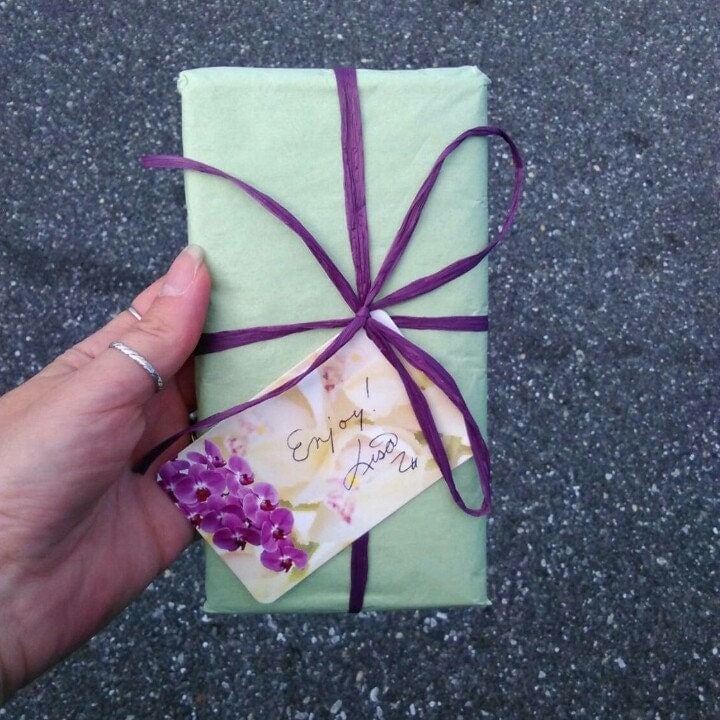 My first Etsy shop update featuring one of my checkbook covers on its way to a new home
Wordpress Website
I definitely have more work to do on this one, but it's a start. Here's the
link
it you want to check it out. (I'm also up for advice, if you are a wordpress guru.)
YouTube Channel
So, as if I don't have enough to do, I decided to start my own
YouTube channel
. So far my videos have all been one-take clips, with me giving my take on life in a mom-kind of way. As I learn editing skills I'll be mixing up the format, unless folks are good with the way I'm doing it now. I'd love it if you'd check out my channel. If you like what you see so far, please like, comment, and/or subscribe.
Here's one of my videos to give you an idea of what my videos are like. As you can tell I hadn't quite figured out how to add a title, but I'm a work in progress. This one is titled, "Wherever You Go, There You Are."
Email Newsletter
I did mention I've been busy, no? Ok, so I finally figured out how to set up and get my newsletter out there. What's the point of having a sign up form at my craft fair events if I don't follow up with genuinely interested folks? (Yeah, that's a no-brainer, I know.) I plan on one every other week, unless something really exciting or urgent comes up, but I know how it is to inundated with emails, so that's not very likely to happen often.
If you'd like to subscribe to my newsletter, that'd be awesome! I share new creations, upcoming events, works in progress, new blog/vlog posts, and special offers for subscribers only. Here's the link if you're interested. Sign up for my newsletter
here
.
So...what have you been up to? Do you have a new website, email newsletter, storefront or something else you'd love to share?